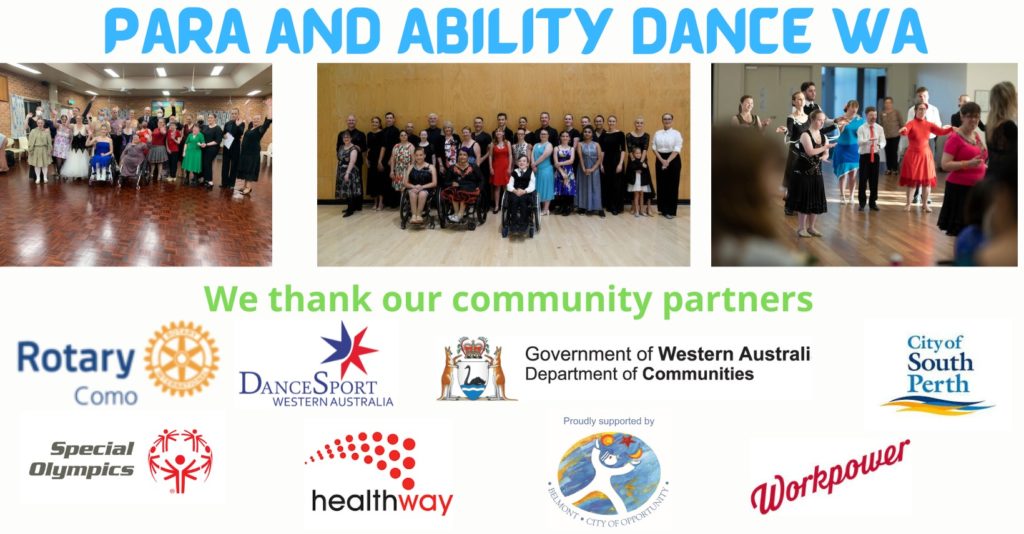 Tokyo 2023 World Para Dance Sport International Championship, Japan – 5th and 6th August 2023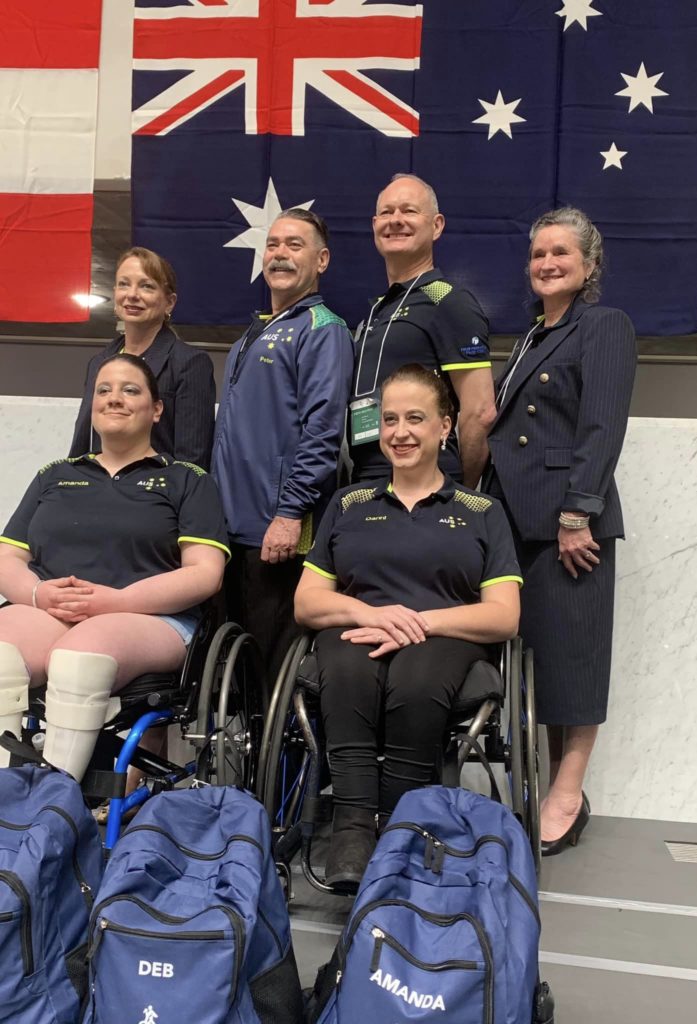 DID YOU KNOW YOUR DONATION TO THIS PROJECT IS TAX DEDUCTIBLE?
Help Paralympic Athletes travel to compete at the International Paralympic competitions in Tokyo August 2023 (qualifier) and Italy 2023 (World Competition).
The Australian Sports Foundation (ASF) is the only deductible gift recipient for sport in Australia. This means that donations of $2 or more to approved projects on our website are tax deductible.
Shortly after making your donation, you'll receive an official receipt from the ASF that you can use in your income tax return.
Click on the below link to make your tax deductible donation.
https://asf.org.au/projects/para-and-ability-dance-wa
History
Para and Ability Dance WA (PADWA) became incorporated in September 2019, after a committee meeting on the 13th July 2019 of the Para Dancers coming together to discuss competing in the Australian DanceSport Championship in Melbourne. From that meeting it was decided we should look at incorporating as a not-for-profit association, to be able to apply for grants to support travel, costumes and development of the sport.
Prior to this the Para Dance committee had worked closely with Rebound WA. Rebound WA is a charitable association assisting Western Australians living with physical disability essentially using Sport as a cornerstone to their activities. Rebound WA did not have Ballroom Dancing opportunities so PADWA was developed to start to process of supporting people with disabilities to share in the joy of dance.
Today PADWA is incorporated and applies for grants as a not-for-profit organisation as well as fundraising.
The objects of our Association through Dance are-
To be a not-for-profit organisation that supports the active health and wellbeing of dancers with a disability through promotion, development and training;
To provide social activities that are safe and inclusive for dancers with a disability;
To encourage and empower dancers with a disability to actively participate within the association, partner organisations and the community;
To encourage and promote the development and expansion of all forms dancing for dancers with a disability;
To promote and participate in community events that include dancers with a disability;
To co-operate with, and to seek co-operation from, dance promoters and all organisations supporting the dance community; and
To support and assist the disability community organisations wherever possible and practicable.
PADWA held its first Annual General Meeting on the 28th March 2021, which had been delayed on two previous occasions due to COVID 19 lockdowns in Perth. But despite the faltering start the AGM was held and official office bearers were elected. Of the nine (9) committee members, four (4) of the committee members live with a disability, making the organisation truly inclusive.
PADWA as a Peak Body for people living with disabilities who have a love for dance, including Para dancers, vision and hearing-impaired dancers and dancers live with intellectual disabilities. All abilities are included and have great fun whilst being greatly challenged to learn and perfect their skills and understanding of dance. With Peak Body status PADWA is able to advocate for the dancers from all the dance studios across both the metropolitan and country areas with competition organisers to enable members to participate and be a strong and important part of the Dancing community across Western Australia.
Above all, PADWA has adopted an underlying principle, while sharing in the joy of dance we have FUN and provide a safe and supportive environment.
To date PADWA Inc. has received three $1,000 Department of Communities grants' to host International Day of People with Disabilities events in 2019, 2020 and 2021 in partnership with the City of Belmont and a $5,000 Department of Recreation Regional grant to support regional dancers. Additionally PADWA has just received a grant from the City of South Perth to stage another "Ability Dance Come and Try Day" for people in the South Perth and surrounding community living with disability. PADWA is also planning, in conjunction with DanceSport WA a World Para Dance Coaching Course for 2023, funded by a Department of Sport and Recreation grant.
PADWA members have been involved in a number of performances and displays and want to travel and compete regionally and interstate. The PADWA members performances include the:
2019 Disability Support Awards – Crown Ballroom
2019 and 2020 Special Olympics State Titles Opening Ceremony – Rockingham
2019, 2020, 2021 and 2022 International Day of People with Disability – City of Belmont
2020, 2021 and 2022 Perth Disability Expo – The Perth Convention Centre
2020 City of South Perth Summer on the Foreshore – South Perth Foreshore
2020 City of Victoria Park Jazz in the Park – Victoria Park
2021 Fringe Show – Townsend Theatre
2021 Ability Dance Come and Try Day – City of South Perth
2021 International Day of People with Disability – City of South Perth
2021 and 2022 International Day of People with Disability – Belmont Forum
2022 Special Olympics DanceSport Development Day – Loftus Centre
2022 Bingo Fundraiser – Manning Senior Citizens Centre
2023 World Para Dance Coaching Course – Perth Town Hall
2023 Ballroom Bingo in partnership with the Rotary Club of Como – Collier Street Centre, South Perth
PADWA has held three workshops to date for members and been involved as a partner with DanceSport Western Australia in a third workshop:
2020 DanceSport Australian Western Australia Para and Ability Dance Workshop – Government House
2021 Dance Make-up workshop – The Manning Senior Citizens Centre
2021 Body and Arm Styling workshop – The Como Primary School Hall
PADWA currently has over 60 registered members, but with every event held, more members are recruited.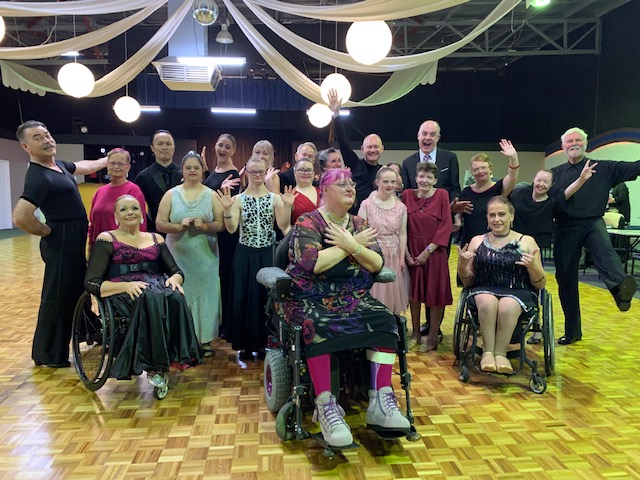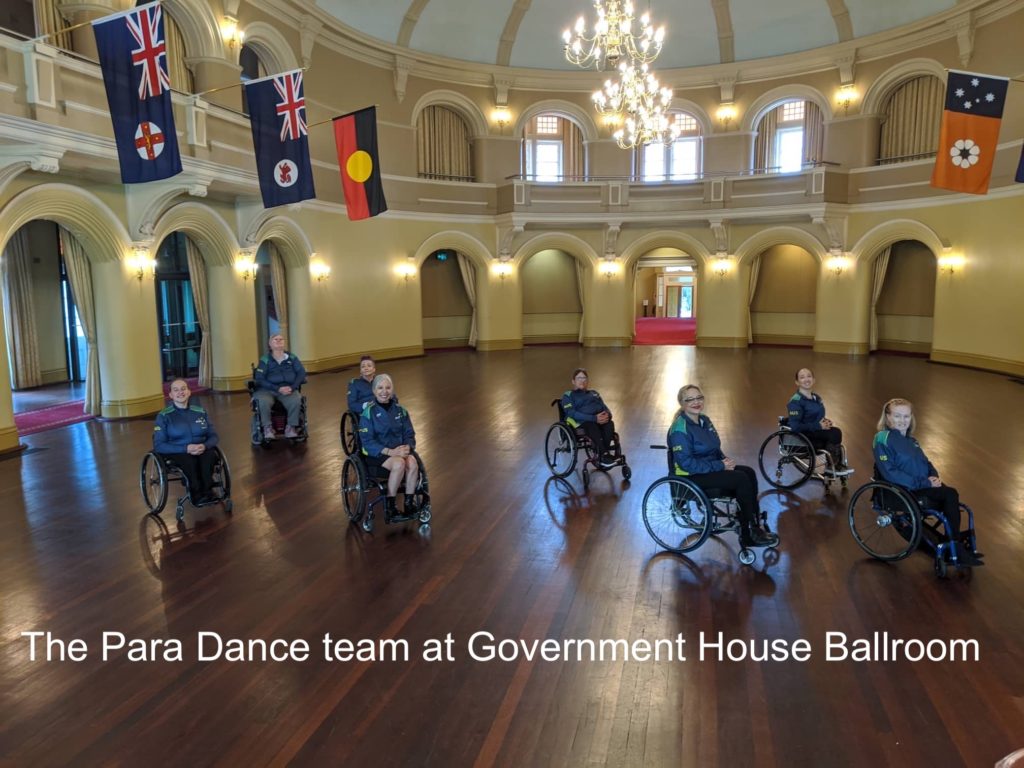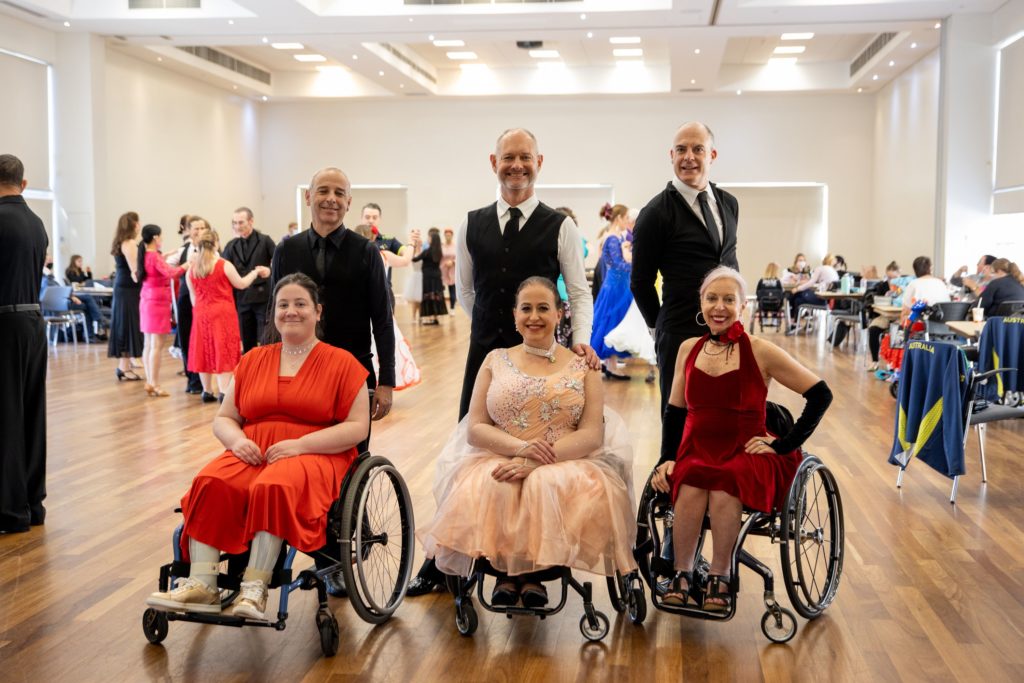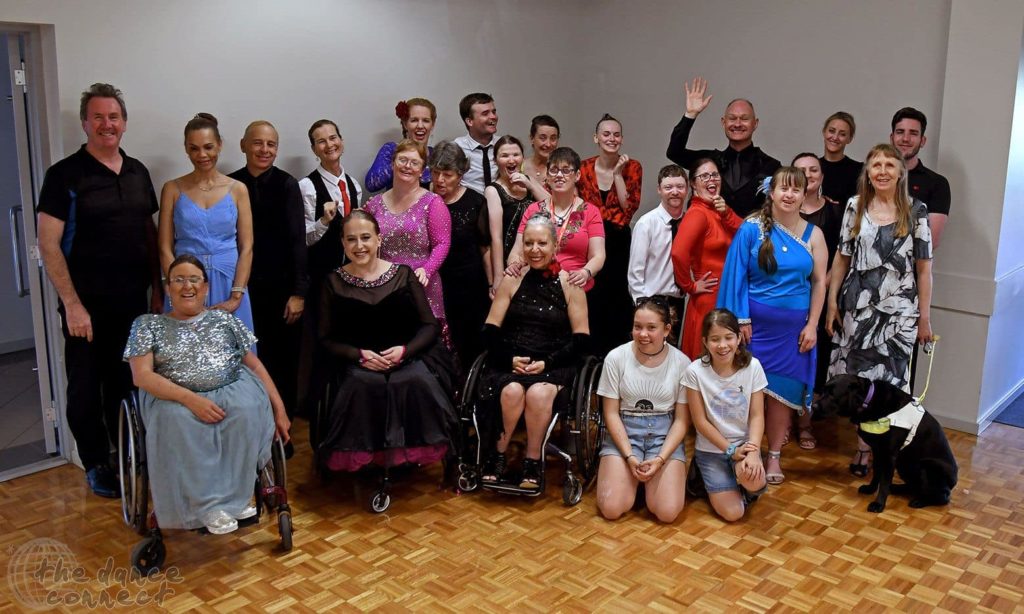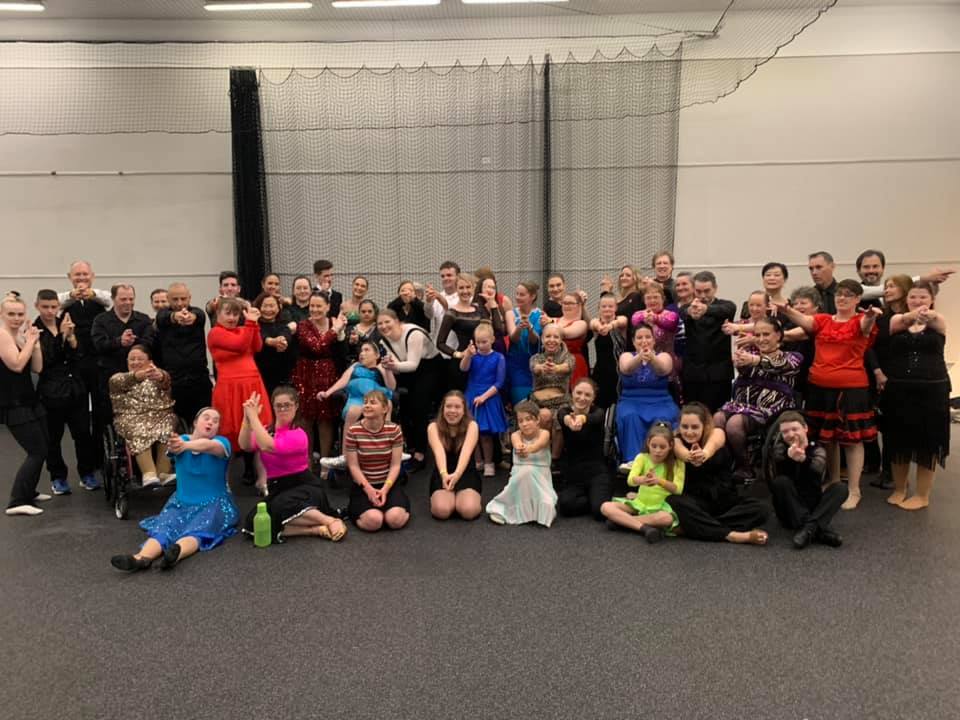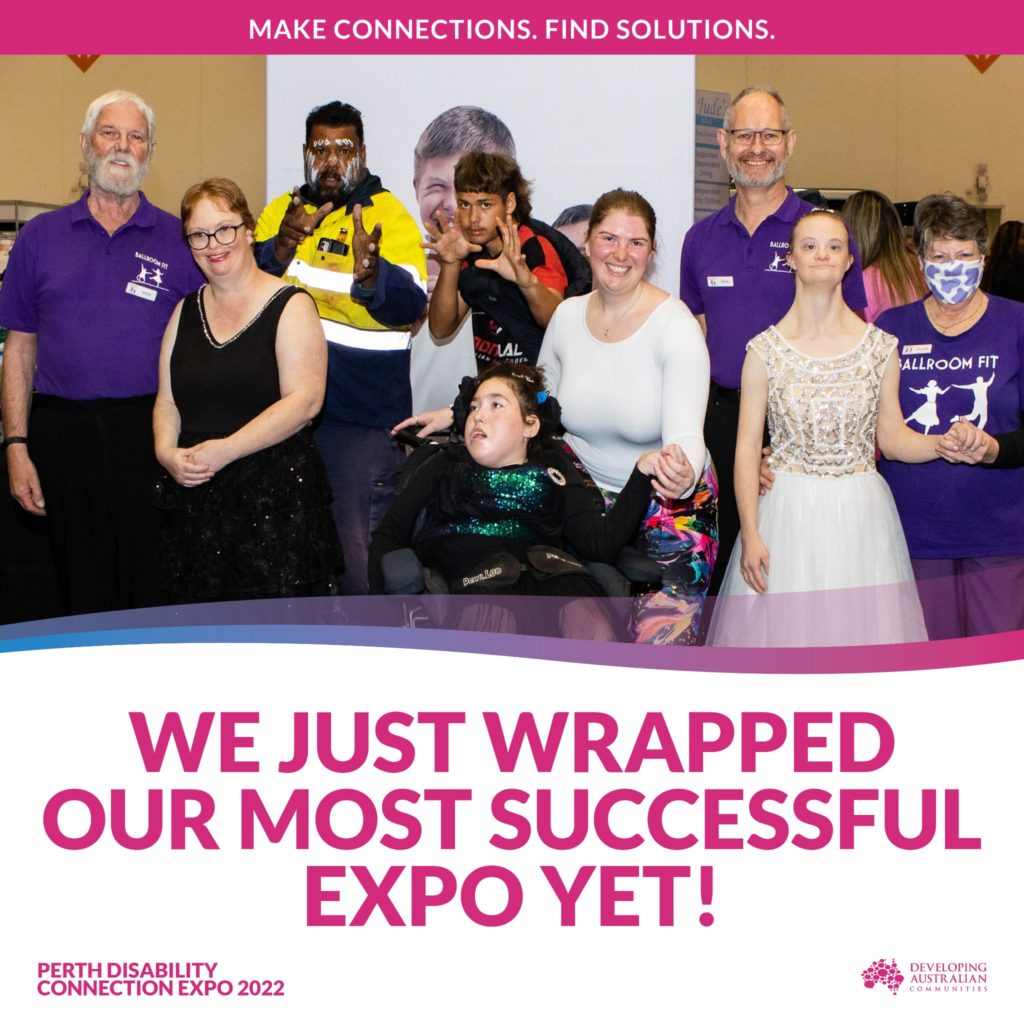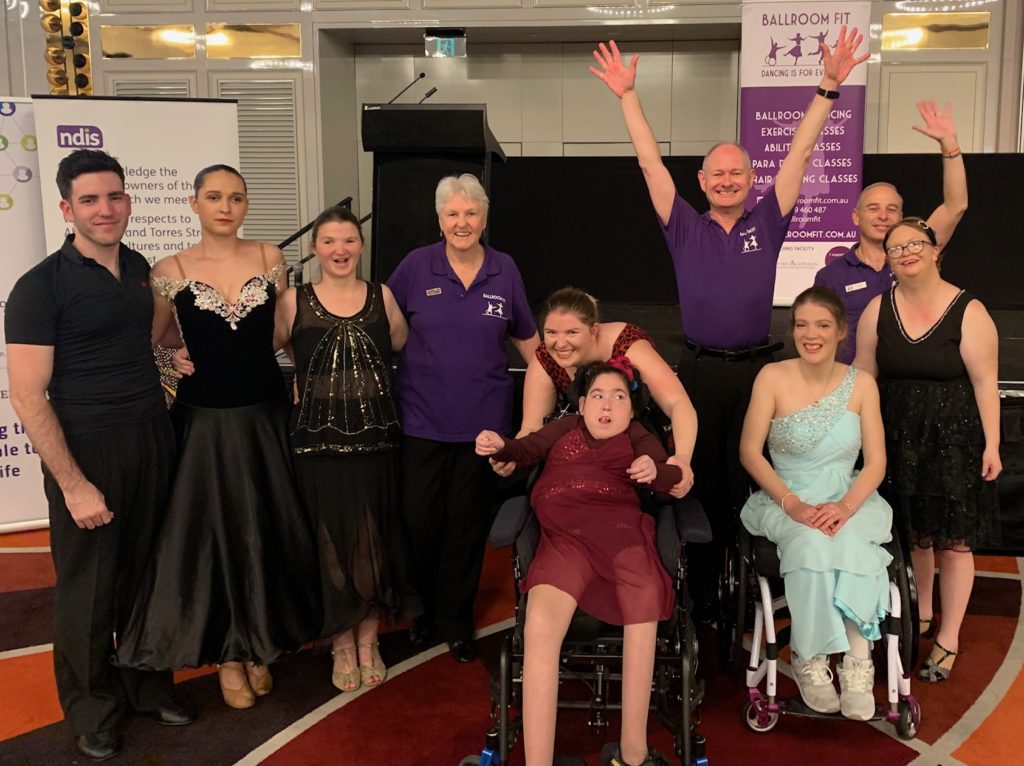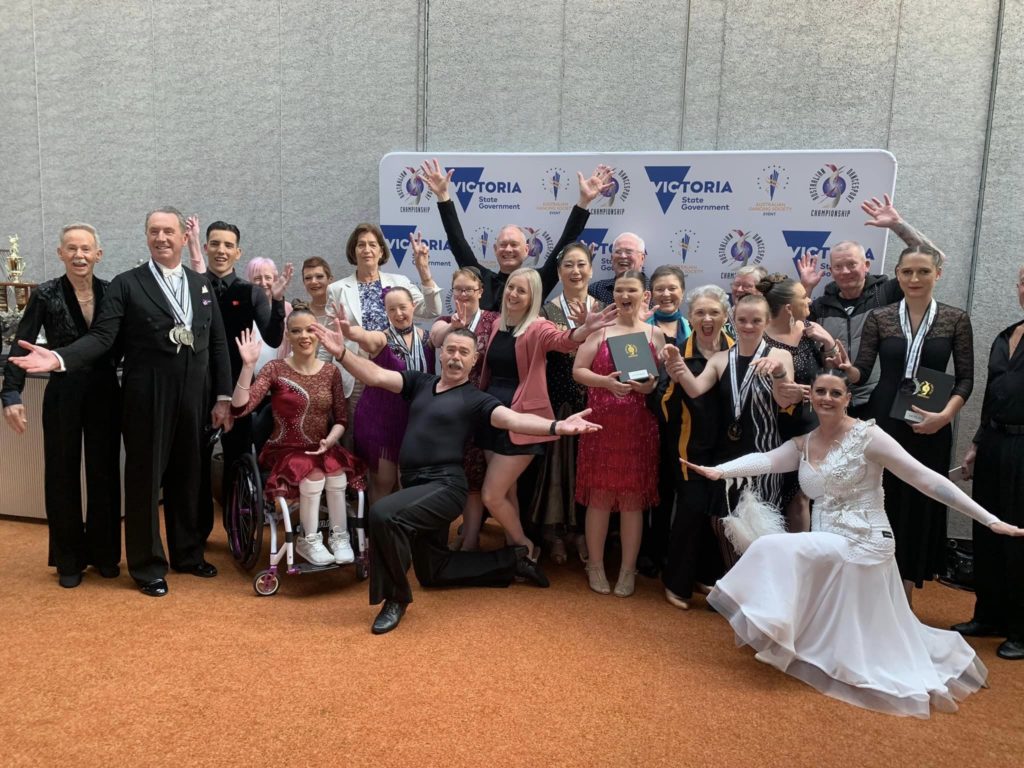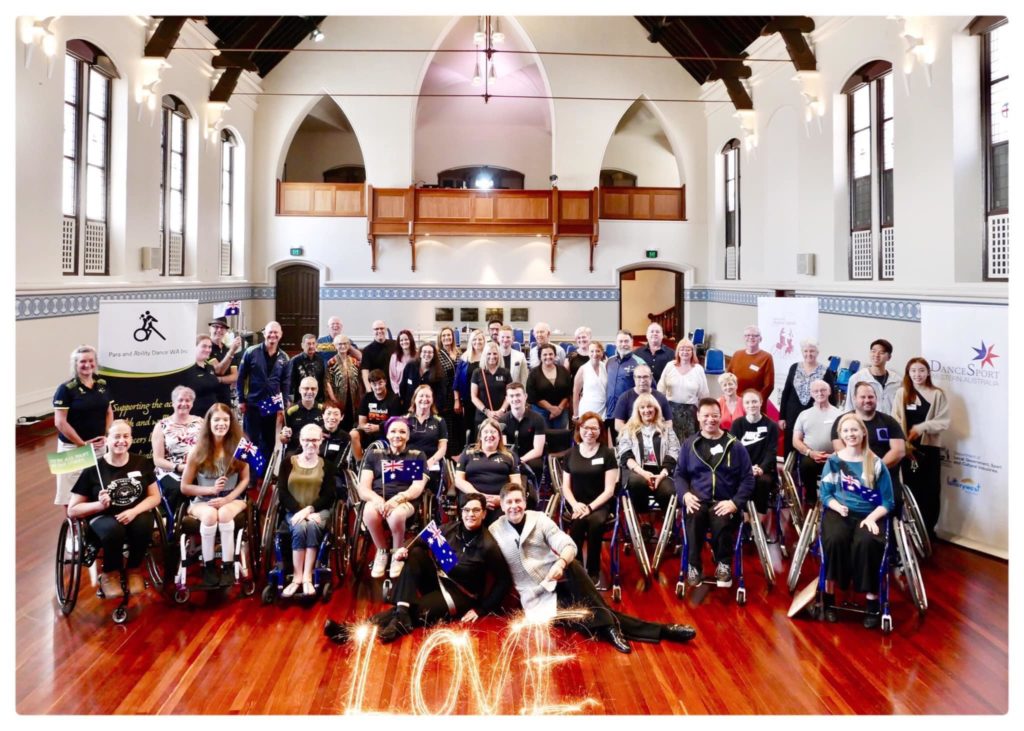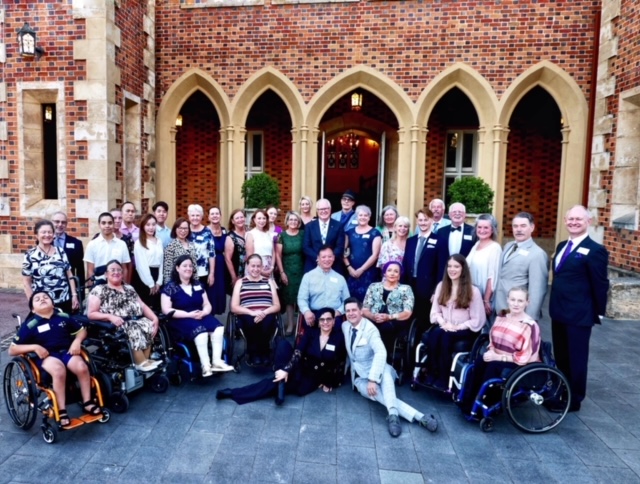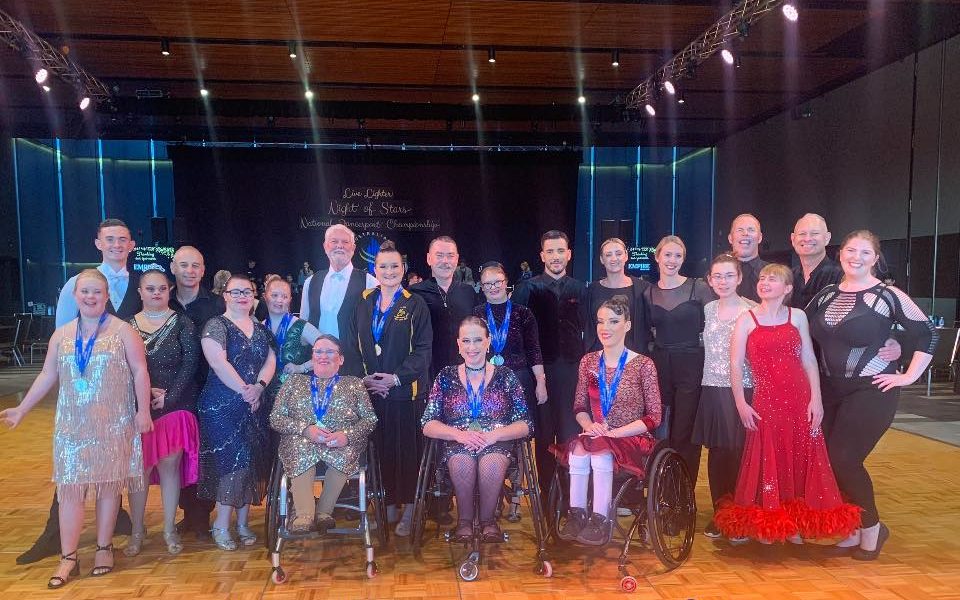 As a Peak Body, PADWA is always fundraising and seeking grant opportunities to support the workshops, events, travel and training opportunities for members.
If you like what PADWA are doing, you can join the Facebook group to get all the info on current and upcoming events and opportunities.